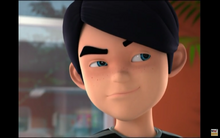 Cornell is one of the minor characters of My Giant Friend.
Appearance
Edit
Cornell have dark whort hair, he's a medium size and he's dressed all in black.
Personality
Edit
He's against Mcloon. Theye're both always fighting, can't get along. All the members of the team hate Cornell. Sometimes, he shows off. He's a fan of SDC' agents and want to become a SDC' futur agent later.
Major Battle
Edit
Cornell vs.
Taki