"
If you don't try, you'll never know
"

–Taki
Taki

Taki

Species

---

Human

---

Age

---

13

---

Gender

---

Male

---

Eye Color

---

Green

---

Hair Color

---

Dark Brown

---

Family and Friends

---

Linus
Boom
Iris
Monroe
Veronika

---

First Appearance

---

The Watch of Scire Part 1

---
Taki is one of the main characters in My Giant Friend series.
He is a 13 years-old boy (in the year 2020) who has great interest in creating new machines.
Appearance
Edit
Taki has green eyes and dark brown spiky-hair. He wears a blue hat backwards. He wears a light blue sleeve shirt under a white t-shirt. He wears a green dress that resembles a mechanic's dress on top of the t-shirt. He wears a dark blue-white shoes.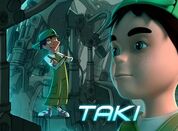 Personality
Edit
Taki is a 13 years-old boy who is the oldest human in the team. He has a great interest in machines. He constantly creates machines that are usefull during missions or repairs or upgrades the team's jet-boards. He thinks that Monroe is a baby and acts like his babysitter. As 13 years-old, most of the kids in the school like Cornell are a bit scared of him.
Relationships
Edit
Taki and Linus are good friends. Linus respects Taki as he is 13 and Linus is only 12 and a half. When Linus mispelled Taki's name, Taki said they were friends when they met in the second grade.
Boom and Taki are good friends. Sometimes, Taki gets angry when Boom eats some of Taki's inventions.
Taki and Iris are good friends. They share a good older brother- younger sister relationship. When the team decided to get one of them to fall in love with Iris in
Iris and Joon
, Taki said that he can't do it because she is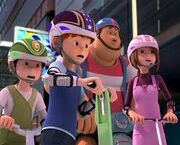 like a sister to him.
Taki and Monroe are good friends. But sometimes, Taki thinks of Monroe as a baby and acts like his babysitter, something that Monroe hates.
Major Battle
Edit
Taki had a crush on ones of Jenny's friends and Veronika. Once he pretended to have a crush on Jenny (not true) and Iris (not true too) to hide from the S.D.C. This makes Taki the only character to have the most love interests with 4.
Iris revealed that Taki never liked movies in Storom.
Taki has revealed to carry a spanner with him everytime.